Where to take your dog in Europe
Europe is an incredible continent full of diverse landscapes, rich and varied history and a huge range of different foods and cuisines. With so many languages to navigate it can feel pretty daunting, but rest assured that the language of dog-love is universal! Make sure you've checked all the rules and requirements for each individual country before you begin your trip if you're planning to visit several in one go. There are many places to take your dog in Europe that are extremely pet-friendly.
Italy
Italy is about as dog-friendly as you can get. With plenty of gorgeous landscapes to explore, from rugged coastline to jaw-dropping mountains, it's the perfect place for outdoor adventures. There are also a surprising number of sightseeing options with a dog. Many historical attractions allow you to bring a dog on a leash, but make sure you check with each site before visiting. There are loads of dog-friendly hotels & restaurants too.
Latvia
You'd be hard pushed to find a more pet-friendly country than Latvia. Dogs are welcome to join you on public transport in the capital city of Riga. Many restaurants also allow dogs, particularly in outdoor seating areas during the summer. Over half of the hotels in Riga are pet-friendly too so you should have plenty of options when choosing somewhere to stay. Many of the tourist sights and beaches are dog-friendly in Latvia too.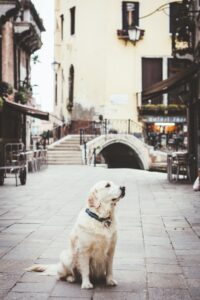 Slovenia
The picturesque country of Slovenia is wonderfully dog-friendly. Many hotels, tourist sites and restaurants are very dog-friendly too. You are even allowed to take your dog to the zoo in Ljubljana. If cities aren't your vibe then don't fret, Slovenia is not short on stunning natural beauty. There are loads of hiking trails through the mountains that permit dogs which will allow you to explore the great outdoors.
Germany
With 21% of German households having a pet dog it's no surprise that it's considered one of the most dog-friendly destinations in Europe. Dogs are definitely treated like a member of the family in Germany. It's not unusual to see them joining their owners in shops and cafes.
So if you're planning a trip with your dog in Europe, make sure you check out one of these pet-friendly destinations!
Fri Jul 21 2023