Swedish designer launches dog range
Arket offers high quality, sustainable clothing in a contemporary Nordic style. Although it first opened on Regent Street in London, it's owned by Swedish parent company H&M. It's regular collections cater for men, women and children, as well as offering homeware. But now your dog can get in on the stylish Swedish action too.
The new dog range launched in September and features a range of doggy clothing. A black, knitted jumper with full zip was inspired by Arket's ready-to-wear range and is made with a blend of wool and cotton for breathability. A water-resistant raincoat for dogs features a buckle waist and top opening for threading a lead through. The fashion items are available in sizes XS-L so you should be able to find the perfect fit for your pup.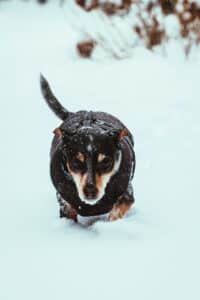 However, the collection features more than just stylish outfits. There's a 100% cotton rope toy and padded bed made from recycled materials on offer too. Or maybe you're in the market for a sleek, black leather collar and matching lead? There is also a padded harness made of recycled materials.
If the phrase 'designer collection' makes you worry about the cost, then you'll be pleasantly surprised. Prices start at just £12 and don't go over £69. Arket is well known for offering pieces that feel high quality with a high street price tag.
This designer collection for dogs is just one of a growing trend from brands looking to cash in on our love for splurging on our pets. Moschino launched a similar (if slightly more expensive) dog range earlier this year too. Jewellery brand Pandora also got in on the action with the launch of their pet collars and engravable collar tags this summer.
Research has shown that pet owners love spending money on their furry friends. This doesn't appear to be a trend that won't be slowing down anytime soon. MoneySuperMarket recently found that many pet owners splurge on luxury goods for their pets more often than on themselves. Not to mention that Christmas is coming up and we all know how much we love to spoil our pets during the festive season!
Sun Oct 30 2022